Camp Director Andy Smyth
Andy has directed soccer camps for over twenty years. He is

the head men's soccer coach at The University of Findlay and has had great success coaching at the collegiate level. The highlights during his tenure are an NCAA II Final Four appearance for the men and four NAIA National tournament berths for the women. Andy holds the UEFA 'A' License, USSF 'A' License, the NSCAA Premier Diploma and a Masters in Sport Studies from Miami University (OH).
Assistant Director Ben Federici
Coach Federici is the assistant men's coach at The University of Findlay and will coach the elite group at the

residential camp. He holds the USSF 'D' license. Federici is originally from Findlay and played four years of soccer at Marietta College. A four-year starter and two-year captain, Federici was an all-conference pick as a junior. He has coached for the Findlay Premier Club and Ohio Extreme and is studying for his MBA at Findlay
Staff Coach Abbey Mock
Abbey has coached for the Pacesetter Soccer Club for the last 8 years.

She is Currently Director of Coaching for Youth Girls and also coaches U8-U10. As a collegiate player, Abbey went to two national tournaments with Tiffin University.
Staff Coach Mike Albert
Mike is Director of Coaching and Player Development for Ohio Extreme Soccer Club.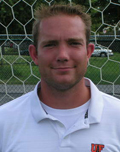 After finishing his playing career as a three year starter and senior captain, Mike was an assistant coach for The University of Findlay. He coached for the Findlay Soccer Club and was also the Findlay High School assistant Varsity and Reserve coach. Mike directed the OTB Travel camp for a number of years and has his USSF C license.
Staff Coach Sean Kaighin
Sean is Director of Coaching for youth boys at the Pacesetter Soccer Club.
He was team captain and Academic All-American at Owens Community College. Coached for Orgeon Clay HS as assistant coach and head coach of the JV program. Sean has a USSF 'D' License.